Need surgical clothes? View all our OR clothing
Are you looking for high-quality OR clothing? Zorgkleding.nl supplies the best surgical clothing in the Netherlands. Our range complies with all European standards and guidelines and can be safely used in operating rooms throughout Europe.
Our range of OR clothing: an overview
Are you curious about which surgical clothing we have in our range? Then we will give you a clear overview of our offer below. You can then choose which OR clothing you need and order it. If you have questions about this or if you want advice, you can of course always send us a message via the Contact Form or via a DM at Facebook of Instagram.
Tour tunics
Zorgkleding.nl has professional OR circulation tunics of the Alsico brand. These tunics are unisex and have a comfortable V-neck. They comply with the European standard EN 13795 and have a chest pocket, a pen pocket and two pockets at the hip. The fit of these surgical gowns is very pleasant. The quality is also excellent. These circulation tunics consist of 99% polyester and 1% carbon. You can order our unisex wrap tunics from size XXS to size 3XL. They are available in the colors green and blue.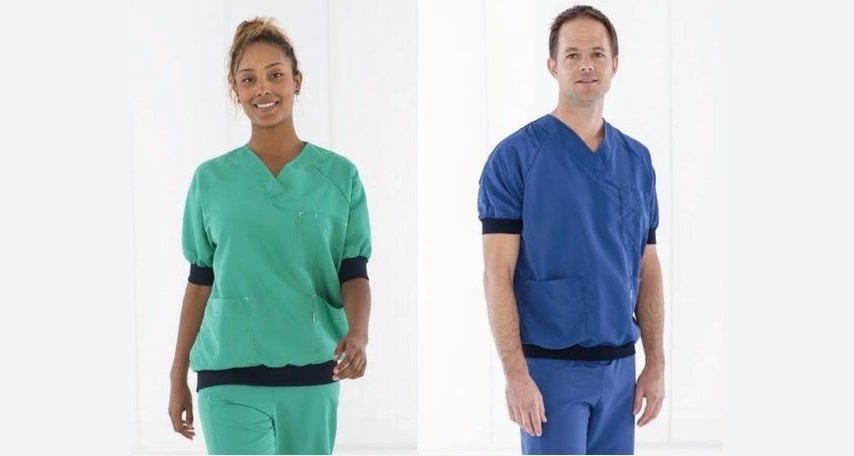 Scrub trousers
Also for OR scrub trousers you have arrived at the right place at Zorgkleding.nl. In our webshop you will find high-quality unisex circulation trousers with an adjustable waistband for optimal comfort. These trousers consist of 100% polyester and are of course standardized according to EN 13795 (European standard). The fit of these pants is excellent, they also fit perfectly with the aforementioned running tunics. In short: these trousers are ideal for the operating room in the hospital or clinic. The pants are available from size XS to size XXL.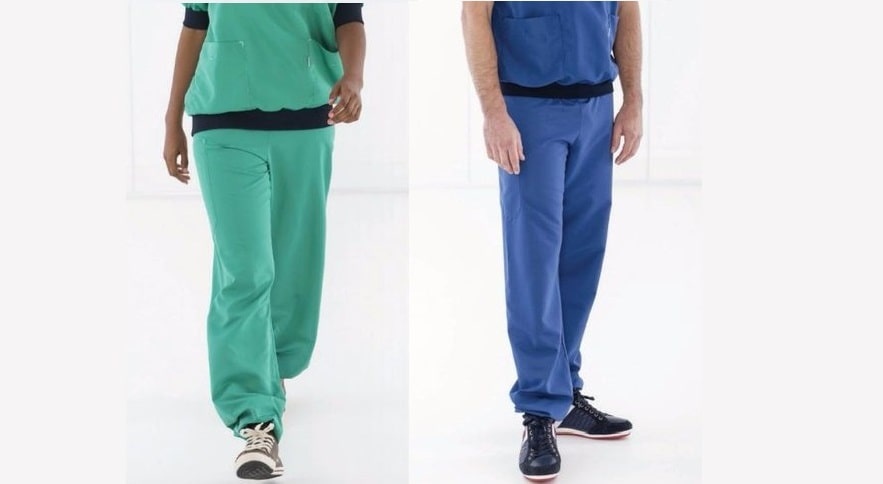 OK slippers
You can't do without it in the operating room OK slippers. You wear these plastic blue slippers over you care clogs or care shoes. The slippers that Zorgkleding.nl has in its range are packed per 100 pieces and meet all the necessary EN, CEE and ISO standards that apply in the European Union.
Soft Nitrile Gloves
To work hygienically and responsibly in the operating room, it is essential that you have soft nitrile gloves features. These medical gloves are made of soft and synthetic nitrile and are packed per 100 pieces in a box. They are available in the color blue and in sizes S to XXL. The nice thing about these gloves is that they can also be worn by someone with a latex allergy. They are allergy-free, non-toxic and also free of latex and powder. A major advantage of these gloves is that they are strong and stretchy, have a firm grip thanks to the roughened micro-touch fingertips and that they are highly resistant to acids, oils, fats, peroxides and amines. They are also extremely wear-resistant. in short: a perfect choice for the operating room or in a similar medical setting.

OR disposable aprons
Our disposable aprons for the operating room are made of polyethylene, also known as PE, and  protect your regular care clothing, doctor's coat, surgical gown or scrub tunic and scrub pants against moisture, contamination and splashes. These disposable aprons are also called disposable aprons or surgical aprons. They are not only used in hospitals and clinics, and not only in the operating room. Dentists, for example, also regularly wear a disposable apron. A major advantage of these disposable aprons is that as a care worker or OR employee you do not have to change all the time, but you can simply replace your apron. The aprons of Zorgkleding.nl naturally comply with the CE standard and with the EU standards that currently apply.
View our full OR range in the webshop
Are you curious about our full range of operating room clothing? View the current range in the webshop of Zorgkleding.nl. Could you use some help with your choice? Or would you like to order large stocks? Please feel free to contact us via the service page. We are happy to help you!